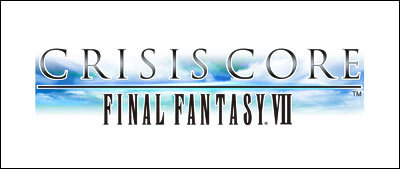 Release Dates

Statistics

- 20 June 2008
- 13 September 2007
- 25 March 2008
Title: Crisis Core: Final Fantasy VII
Developer: Square-Enix
Publisher: Square-Enix
Platform: PlayStation Portable (PSP)
Genre: Action RPG
Players: 1
Disc(s): One
Our Rating: 8.6/10

(Minor spoilers for those who have not completed Final Fantasy VII!)



A story of three young men and one young woman bound for destiny's core.

Crisis Core: FFVII takes place at least five years before the start of the original Final Fantasy VII. This time, you play not as Cloud Strife, but Zack Fair. Zack was a very mysterious character in FFVII, he appeared only in flashbacks and worked alongside Cloud in SOLDIER, Shinra's elite military unit, though the former was of a higher rank.
In Crisis Core, Zack has been promoted to the important role of main playable character. He works as a low-class SOLDIER, so the game takes place before he makes it to 1st Class. His instructor is a new character, Angeal Hewley, who plays a vital part in Crisis Core, though the details are unknown. Angeal wields the Buster Sword in Crisis Core, but for some reason he only uses it under urgent circumstances when someone is in danger.

Familiar faces, such as Cloud Strife, Aerith Gainsborough, Sephiroth, Tifa Lockhart and Tseng, Reno and Rude from the Turks reappear in the game. Their roles are uncertain, though Aerith is in a relationship with Zack and Sephiroth and Cloud are in SOLDIER.

Crisis Core is the first in the Final Fantasy series to be released on the PSP platform and will feature a battle system taking elements from action and traditional turn-based menu systems. Materia is also making a come-back.


Review - By machinaman
Plot - 8/10
Graphics - 10/10
Music - 10/10
Gameplay & Battle System - 9/10
Length & Replayability - 6/10
Overall - 8.6/10

To begin, Crisis Core is a prequel to the original Final Fantasy VII. It takes place while Zack was still alive, Aeris was still a flower girl, and Cloud had yet to join Avalanche in the efforts to shut down the Shinra Corporation and save the Mana, or life force, of the world. This addition to the Final Fantasy VII line of the series is the tale of Zack. He works as a high class SOLDIER unit, and wields a sword, much like Cloud. Angeal, his mentor, leads him through his first few missions and his goal to becoming a first rank SOLDIER.
It all changes when…Nah, I'll let you play the game to know the story completely. This is a review, not a spoiler guide.

Plot - 8/10
This is the tale of Zack, the man that started it all. The game follows him through his missions to become a 1st class SOLDIER, his ambitions and dreams of becoming a real hero, and the dramatic and heart-wrenching sacrifices he has to make. As the story progresses, he finds that becoming a real hero is much more then just saving people, it's being a man of many talents and gifts. Crisis follows all the way through his story, and it holds onto you from start to climax to finish. The one drawback is that we've seen most of the plot before via Cloud in FFVII, otherwise it's grand. For a large-scale legend packed into a small-scale game, Crisis Core revisits the world of Final Fantasy VII with a further look into the backstory, earning an 8/10.

Graphics - 10/10
For the most part, the graphics engine in Crisis Core throws all other games in the trash heap. With completely CGI FMV's that rival the quality seen in FFVII: AC and Spirits Within, Square has once again toppled all competitors with beauty alone. In-game cutscenes are smooth, although lacking on the PSP's miniature screen, but the visual effects seen in the field and during battle make up for that aspect entirely. For graphical prowess, Crisis Core earns a 10/10.

Music - 10/10
Square pulled off a grand scale orchestrated movement for this installment. Incredible voice acting leads the story line flawlessly; instrumental arrangements melt the PSP's sound card into shear bliss and even the cries of defeated monsters engross you deeper into the game. Definitely a plus, the fluidity of the sound system melds precisely with the FMV scenes. Crisis Core writes a ballad for the fans, 10/10.

Gameplay & Battle System - 9/10
Only one word can describe this factor, phenomenal. Crisis Core's battle system is hectic and a little rough at first, but once you get the hang of it you'll think you could take on a horde of Behemoths with one hand tied behind your back. Kingdom Hearts fans may be more comfortable with it, but all you Final Fantasy vets will catch on quickly. We're treated to a blast from the past as well; Square introduced an updated version of Final Fantasy VII's Materia system. By altering and editing your Materia selection, you can give Zack the ability to perform different spells, Physical Abilities, or change himself completely. An example what Materia is capable of would be the HP+10% Materia. As the name implies, it increases Zack's maximum health by 10% of what it originally was. The only negative about the gameplay is the limitation. You can only have a maximum of 6 Materia equipped on Zack at one time, hindering his ability in battle to a few types of different attacks. All in all, gameplay gets a 9/10.

Length & Replayability - 6/10
Sadly, CC: FFVII can be finished in a meagre 10 hours without side-missions, which will add an extra 5 hours gameplay. One of the PSP's smash hits is too short to enjoy entirely. To my knowledge, there aren't any extras to be earned in a second run of the game, so replayability for anything other then a second shot at the story or a challenge is slim, hindering it severely. For little reason to replay CC and the oh, so short length, I give a 6/10.

Overall
All in all, Square's goal of bringing Final Fantasy VII back succeeded in this game. Strong and emotional as well as fun to play, Crisis Core: Final Fantasy VII earns a solid rating of 8.6/10.

Final Verdict - CC: FFVII
8.6/10

By machinaman.