Click on one of the links below to take you to that Dressphere's information.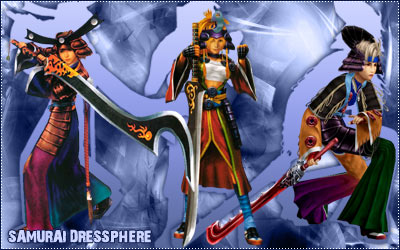 Name
Samurai Dressphere
Description
The Samurai Dressphere is another powerful sword-wielding enemy destroyer, only this time, she's more tactical, using strategy to bring down her foes. Samurais are mostly supportive attackers with the ability to negate your opponent's positive statuses and cure your party of their own negative statuses.
A Samurai has some pretty nifty moves, including; Magicide, to attack your opponent's magic source and take down their MP; Dismissal, to stop an enemy from executing their next move; Fingersnap, to knock enemy's stats back to their original levels; Zantetsu/Shin-Zantetsu, to instantly defeat an enemy/all enemies on the battlefield, however this will not work 100% of the time; Samurai's also have various abilities to raise their own strength levels when HP is low, or to cast protective spells on herself.
Samurai's have quite a high Evasion, even though they use huge swords to cleave through their enemies, so that they can dodge most attacks with incredible agility. To make the most of this unique strength, equip Accessories or Garment Grids that increase Evasion, or cast 'Hayate' during battle.
Being more supportive than most Dresspheres, a Samurai will need backup, having a healing type and another strong fighter type party member, will keep your party well balanced. Nonetheless, a Samurai can be a valuable asset of any party and is not to go to waste.
Location
During the 'Pest Control' mission at Kilika Temple in Chapter 3, you'll be fighting many 'Daeva's as you make your way to the Chamber of the Fayth. In the main hall of the Cloister of Trials, (where there are fierce flames blocking the way forward) you'll need to win a mandatory battle against two more of these 'Daeva's. Defeat them to douse the flames, enabling you to proceed. When you head down the stairs however, examine the floor of the lower level carefully and you should spot a Sphere, just lying there, on the ground, unguarded, free for the hunters. Easily pick it up to gain the Samurai Dressphere!
If you missed your first chance of getting this Dressphere, you can return to Kilika Temple during Chapter 5, head into the Temple and open the chests you find there, the Samurai Dressphere should be hiding in one of them.
Main Commands
Attack
Bushido
Spare Change
Zantetsu
Item
Samurai Abilities for Yuna, Rikku and Paine

Name
Description
AP
MP
Recovery
Required Abilities
Attack
Attack one enemy. No Wait.
0
0
100%
Initially learnt
Spare Change
Attack by throwing gil. No Wait.
0
0
100%
Initially learnt
Mirror of Equity
Attack one enemy, dealing greater damage when HP is low. Wait 100%.
30
16
0%
None
Magicide
Inflict damage on one enemy's MP. Wait 100%.
30
4
0%
None
Dismissal
Halt the pending action of one enemy. No Wait.
30
10
100%
Magicide
Fingersnap
Revert one enemy's attributes to normal levels. Wait 100%.
40
10
0%
Dismissal
Sparkler
Damage one enemy. Wait 100%.
40
12
0%
None
Fireworks
Damage all enemies. Wait 100%.
60
18
0%
Sparkler
Momentum
Deal increasing damage as you defeat more enemies. Wait 100%.
60
10
0%
Sparkler
Shin-Zantetsu
Instantly defeat all enemies. Sometimes fails. Wait 120%.
100
32
0%
Momentum
Nonpareil
Raise the user's Strength and Accuracy. Wait 80%.
20
10
0%
None
No Fear
Cast Shell and Protect on the user. Wait 80%.
30
12
0%
Nonpareil
Clean Slate
Restore HP and cure user of status ailments. Wait 80%.
30
14
0%
No Fear
Hayate
Raise Evasion and cast Haste on the user. Wait 80%.
40
16
0%
Clean Slate
Zantetsu
Instantly defeat one enemy. Sometimes fails. Wait 130%.
140
0
0%
Shin-Zantetsu
SOS Critical
Always inflict critical hits when HP is low.
60
0
N/A
Fireworks
Samurai Statistics for Yuna, Rikku and Paine

Level

HP

MP

Str.

Def.

Mag.

Mag. Def.

Agi.

Acc.

Eva.

Luck

1

116

20

17

32

18

35

54

102

10

12

2

154

23

19

32

19

35

54

102

10

12

3

192

25

21

32

21

36

54

102

10

12

5

267

31

25

33

22

37

54

102

10

12

10

451

44

36

35

28

40

55

103

11

13

20

808

68

55

38

38

45

56

105

12

14

30

1151

91

74

41

48

50

57

106

13

15

40

1478

114

91

44

56

54

58

107

13

15

50

1791

135

107

47

64

58

58

108

14

16

60

2088

154

123

49

73

62

59

109

14

16

70

2370

173

137

51

80

65

59

109

14

16

80

2637

191

150

54

87

67

60

110

14

16

90

2889

207

162

56

95

71

60

110

14

16

99

3104

221

171

57

100

72

59

109

13

15





(By FFFreak)