Click on one of the links below to take you to that Dressphere's information.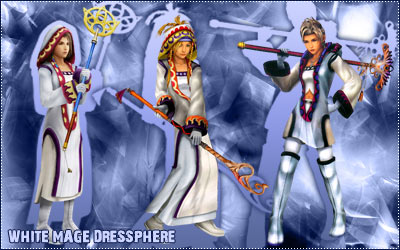 Name
White Mage Dressphere
Description
The White Mage Dressphere is your party's lifeline, a White Mage can cure HP; protect your party with 'Protect', 'Shell' and 'Reflect'; heal harmful statuses on your party or eliminate an opponent's shield.
Having a permanent White Mage, or a character that always has a White Mage Dressphere available in her Garment Grid, is essential for most battles and bosses. Unlike the Black Mage Dressphere, a White Mage has a large variety of spells and will still be useful near the end of the game.
Mastering a White Mage's Cure spells, 'Regen', 'Shell', 'Protect', 'Reflect', Life spells, and 'Full Cure' along with her support abilities early on in the game will give you a huge upper hand. A White Mage is an incredibly valuable part of your party, with the ability to get you out of those sticky situations quickly.
Quite possibly the only downside to this Dressphere is it becomes useless when you are low on MP and the lack of the 'attack' command, but you wouldn't want that anyway due to her low Strength. So to keep that 'Game Over' screen at bay, make sure you have plenty of 'Ethers' and keep an eye on your MP levels so that your White Mage can continue to support your party.
Also, do not under-estimate 'Pray', this quick already learnt, no MP cost ability can be incredibly useful. When your party is going well and it's your White Mage's turn, she'll pretty much have nothing to do, so have her cast 'Pray' to increase your party's HP by a small amount. Although it doesn't seem like much, it could be the difference between winning a battle and visiting the 'Game Over' screen for the 423rd time, it also gives your White mage a decent amount of AP, so that you can master her abilities quickly, and it doesn't cost any MP! What more could you want?
So, remember to have a White Mage available at all times and that equipping Accessories or Garment Grids to increase her Defense improves your White Mage even more.
Location
After completing the Besaid Cave in Chapter 1, return to the Celsius with the Sphere you obtained after defeating the Cave's Boss, and talk to Shinra to view it. It will show you the locations of some treasure chests that can be found in Besaid, but Yuna, Rikku and Paine aren't very interested and Shinra will use the Sphere as a Dressphere and you'll automatically receive the White Mage Dressphere.
Main Commands
Pray
Vigor
White Magic
Item
White Mage Abilities for Yuna, Rikku and Paine

Name
Description
AP
MP
Recovery
Required Abilities
Pray
Restore a little HP to your party. No Wait.
0
0
90%
Initially learnt
Vigor
Restore some HP to the user. No Wait.
20
0
90%
None
Cure
Restore a little HP to one or all party members. No Wait.
20
4
90%
Initially learnt
Cura
Restore some HP to one or all party members. No Wait.
40
10
90%
None
Curaga
Restore a lot of HP to one or all party members. No Wait.
80
20
90%
Cura
Regen
Gradually restore one character's HP over time. No Wait.
80
40
90%
Curaga
Esuna
Cure one character's status ailments. No Wait.
20
10
90%
None
Dispel
Negate all spell effects on one enemy. No Wait.
30
12
90%
Esuna
Life
Revive one KO'd character. No Wait.
30
18
90%
None
Full-Life
Revive one KO'd character and fully restore HP. No Wait.
160
60
180%
Life
Shell
Reduce magical damage inflicted on the party. No Wait.
30
10
90%
None
Protect
Reduce physical damage inflicted on the party. No Wait.
30
12
90%
Shell
Reflect
Deflect White or Black spells cast at the party back at the enemy. No Wait.
30
14
90%
Protect
Full-Cure
Fully restore one character's HP and cure status ailments. No Wait.
80
99
180%
Regen
White Magic Lv.2
Cuts the time required for 'White Magic' by 30%.
40
0
N/A
Vigor
White Magic Lv.3
Cuts the time required for 'White Magic' in half.
60
0
N/A
White Magic Lv.2
White Mage Statistics for Yuna, Rikku and Paine

Level

HP

MP

Str.

Def.

Mag.

Mag. Def.

Agi.

Acc.

Eva.

Luck

1

103

47

5

8

29

111

50

98

3

8

2

131

51

5

8

31

112

50

98

3

8

3

159

55

5

8

33

113

50

98

3

8

5

214

63

6

9

37

115

50

98

3

8

10

350

83

7

10

47

120

51

99

4

9

20

613

119

9

12

64

129

52

100

5

10

30

865

154

11

14

80

138

53

101

6

11

40

1105

187

13

15

94

146

54

102

7

12

50

1334

219

14

17

108

155

54

102

7

12

60

1552

249

16

18

120

163

55

103

7

12

70

1759

277

17

19

131

171

55

103

8

13

80

1954

304

18

20

140

179

55

103

8

13

90

2138

329

20

21

149

187

56

104

8

13

99

2294

350

20

21

154

194

55

103

7

12



(By FFFreak)