Click on one of the links below to take you to that Dressphere's information.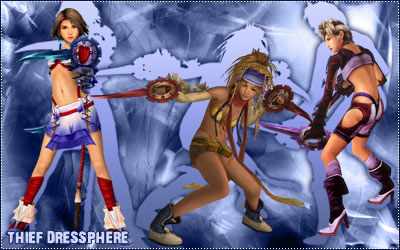 Name
Thief Dressphere
Description
The Thief Dressphere is Rikku's default Dressphere and uses high speed chain attacks to gradually bring down your enemies. However, attacking is not a Thief's strong point, their specialty involves stealing Items and Accessories from all kinds of enemies and bosses, while inflicting enemies with status ailments like 'Stop' or 'berserk'.
A Thief is almost a neccessary part of your party, having one of your characters with a Thief Dressphere at the beginning of every battle, stealing Items from enemies and bosses until you can steal no more, inflicting the odd status on the enemy, then changing into a more powerful Dressphere, and you'll be laughing all the way to the nearest Item Shop.
Obtaining Items is a lot easier with a Thief Dressphere, instead of just winning them from enemies after a battle, so make the most of the 'Steal' ability! And if you are having trouble stealing Items, you can use the 'Sticky Fingers' ability on the enemy you are having trouble with, so that if it has an Item, you will steal it instead of getting the 'Couldn't steal anything...' message.
Thieves are built for speed, with short ATB Gauges, time reducing abilities such as 'First Strike' and 'Initiative', high Agility, Luck and Evasion statistics, Slowproof and Stopproof to avoid those time reducing statuses and, if you boost this with an Accessory or Garment Grid that gives your Thief automatic 'Haste' status, your Thief can become, quite literally, unstoppable!
A Thief's 'Flee' ability to quickly leave a battle, (can't be used in certain cases) and her 'First Strike' to automatically have her turn first will give you the upper hand, so remember to have a Thief Dressphere available for all three characters at all times!
Location
Initially equipped on Rikku.
Main Commands
Attack
Steal
Flimflam
Flee
Item
Thief Abilities for Yuna, Rikku and Paine

Name
Description
AP
MP
Recovery
Required Abilities
Attack
Attack one enemy. No Wait.
0
0
80%
Initially learnt.
Steal
Steal items from one enemy. No Wait.
0
0
80%
Initially learnt.
Pilfer Gil
Steal gil from one enemy. No Wait.
30
2
100%
None
Borrowed Time
Inflict Stop on one enemy. No Wait.
100
16
100%
None
Pilfer HP
Steal HP from one enemy. No Wait.
60
10
100%
Pilfer Gil
Pilfer MP
Steal MP from one enemy. No Wait.
60
0
100%
Pilfer HP
Sticky Fingers
Always steal items from one enemy. No Wait.
120
20
100%
Pilfer HP
Master Thief
Steal rare items from one enemy. No Wait.
140
20
100%
Sticky Fingers
Soul Swipe
Inflict berserk on one enemy. No Wait.
160
12
100%
Pilfer HP
Steal Will
Cause one enemy to flee from battle. No Wait.
160
18
100%
Soul Swipe
Flee
Aid the party's escape from battle. Wait 25%.
10
0
N/A
None
Item Hunter
Improves the odds of enemies dropping items.
60
0
N/A
None
First Strike
Act at the beginning of battle.
40
0
N/A
None
Initiative
Raises the party's chance of a pre-emptive strike.
60
0
N/A
First Strike
Slowproof
Guard against Slow.
20
0
N/A
Item Hunter
Stopproof
Guard against Stop.
40
0
N/A
Slowproof
Thief Statistics for Yuna, Rikku and Paine

Level

HP

MP

Str.

Def.

Mag.

Mag. Def.

Agi.

Acc.

Eva.

Luck

1

114

35

8

7

11

36

57

107

15

22

2

158

37

10

8

12

37

57

107

15

22

3

201

39

12

9

13

38

57

107

15

22

5

287

44

15

11

15

40

57

107

16

23

10

497

55

24

16

21

45

58

108

17

24

20

896

74

39

24

32

54

60

110

19

26

30

1267

92

53

32

43

62

62

112

21

28

40

1611

108

66

39

52

69

63

112

22

30

50

1928

123

78

45

62

76

64

114

24

31

60

2217

136

89

51

70

81

65

115

25

33

70

2479

147

99

57

77

85

66

116

26

34

80

2714

157

107

61

84

89

67

116

27

36

90

2921

165

115

65

91

93

67

117

29

37

99

3084

170

121

68

96

95

67

117

29

37





(By FFFreak)